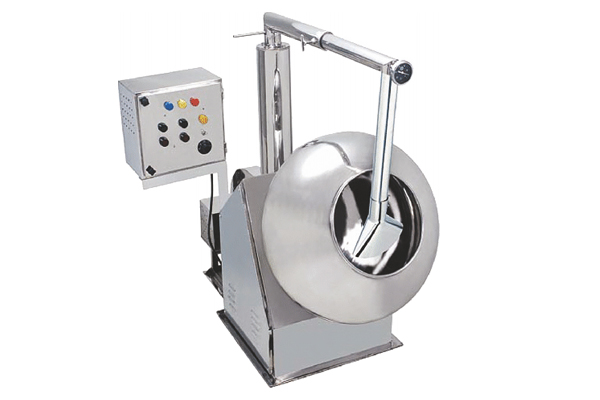 Coating Pan
SPECIAL FEATURES
Pan fabricated from SS sheet of 304/316 AISI quality with adequate mouth opening and depth.
Easy mounting arrangement for change over from Coating Pan to Polishing Pan.
Compact hot air blower with inlet air damping arrangement through filter.
Needs no foundation, can be installed on property pre-levelled floor.
Flameproof construction optional.
TECHNICAL DATA
Models
CP-450
CP-900
CP-1200
CP-1500
Loading Capacity
15
60
150
200
Drive Motor HP 3 PH 50 C S 415 V AC
0.50
1.00
3.00
5.00
RPM of Pan
24 / 72
12 / 36
10 / 30
8 / 24
Hot air blower motor HP 3 PH 50 C/S 415 V AC Line
0.25
0.50
1.00
2.00
Blower capacity Maximum CFM
100
200
500
750
Heater
1 KW
2 KW
8 KW
12 KW
Pan Mounting
Fixed Angle
Fixed / Varying
Fixed Angle
Fixed Angle