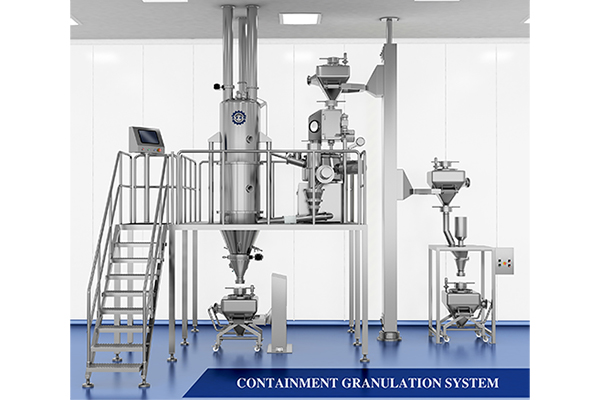 Containment Granulation System
This Granulation system is a complete unit with a common SCADA operation system & single screen operation.
It comprises a High Shear Mixer with a charging and sampling port & a positioning system with Alpha Beta Split butterfly valves. A wet milling Co-mill leads granules to the Fluid Bed Dryer with a flow sieve thereby enabling motion of fluidisation while ensuring uniform drying. Dried products are discharged by Bottom Discharge Method into Blender bin and the product is milled and sieved by Co-mill provided and fed to the Blender Bin with passive Split Butterfly Valves. The Blender Bin comes with a Pneumatic lifting Device that makes for easy docking in the Blender.
The complete system is flame-proof. The entire system adheres to 21 CFR part 11 as well as cGMP guidelines. Sensors measure process endpoints but also endpoints for cleaning and validation.
System Highlights:
Leak-proof High Shear mixer and Fluid Bed dryer to maintain the highest levels of containment.
Specially designed sampling valves as well as cleaning nozzles to ensure the validation of system is perfect.
All containment equipment filters incorporate for hassle-free filter changing procedures.
* Note: Design & Specification are subject to change without notice.