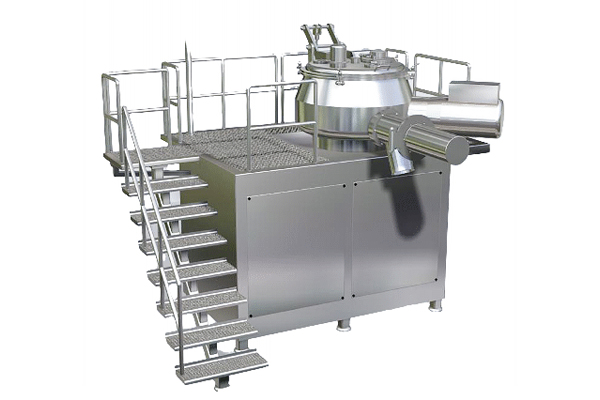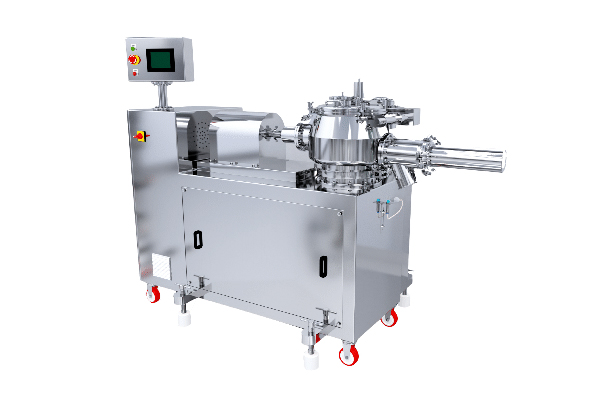 Rapid Mixer Granulator
The Rapid Mixer Granulator was developed in close co-operation with pharmaceutical and chemical industry. With the help of RMG wet sifting is generally no longer necessary. After the mixing of the dry components, subsequent wet granulation occurs (without transfer of dry mixture) producing loose granules in RMG. RMG is specially designed to meet the GMP requirements of the pharmaceutical industry.
WORKING PRINCIPLE
The RMG working principle is based on 2 decisive factors essential for the mixing systems.
Spinning close to the bottom of the mixing bowl.
The impeller sets the entire mixture in a whirling-rising tumbling motion ensuring a quick and even distribution of all dry components which leads to an even wetting of every granule.
The large lumps occurred during wet mixing are broken up, by the strategically located chopping tool rotating at 1440/2880 RPM. The mix can be discharged with the impeller running through the outlet located on the side of the mixing bowl flush to the bottom. Easy accessibility for cleaning is guaranteed by the low profile. The mixing tool is easily removed from the drive shaft providing an unobstructed mixing area which may be cleaned very easily
SPECIAL FEATURES
Unit is designed to meet requirements of GMP.
Contact Parts can be SS 304 / 316 quality.
Specially designed control panel with display system and microprocessor.
Bowl, lid mixing agitator, discharge housing and all other contact parts will be of stainless steel 304 / 316 quality.
All M. S. parts of the machine are cladded / covered with stainless stee1.304 / 316 quality.
Components of the machine are having easy accessibility for cleaning.
All electrical & pneumatic parts are pre-wired to simplify installation.
Limit switch is provided on main lid and discharge valve for safe operation.
Discharge can be provided on either side to suit clients requirement.
TECHNICAL DATA
| | | | | | | | | | |
| --- | --- | --- | --- | --- | --- | --- | --- | --- | --- |
| Models | RMG-10 | RMG-25 | RMG-50 | RMG-100 | RMG-150 | RMG-250 | RMG-400 | RMG-600 | RMG-1000 |
| Gross Volume in Ltrs | 10 | 25 | 50 | 100 | 150 | 250 | 400 | 600 | 1000 |
| Working Volume in Ltrs | 8 | 20 | 40 | 80 | 120 | 200 | 320 | 480 | 800 |
| Main Motor in HP | 2/3 | 3/5 | 3/5 | 7.5/10 | 10/15 | 20/30 | 30/40 | 40/50 | 63/85 |
| RPM Dual Speed | 750/1500 | 750/1500 | 750/1500 | 750/1500 | 750/1500 | 750/1500 | 750/1500 | 750/1500 | 750/1500 |
| Mixing Speed | 75/150 | 75/150 | 75/150 | 75/150 | 75/150 | 75/150 | 75/150 | 75/150 | 75/150 |
| Chopper Motor | 1/.15 | 1/2 | 2/3 | 2/3 | 3/5 | 3/5 | 5/7.5 | 5/7.5 | 10/15 |
| RPM Dual Speed | 1440/2880 | 1440/2880 | 1440/2880 | 1440/2880 | 1440/2880 | 1440/2880 | 1440/2880 | 1440/2880 | 1440/2880 |
| Weight in Kgs | 200 | 900 | 1000 | 1400 | 1500 | 1800 | 2000 | 2500 | 3500 |
| Length | 1450 | 1440 | 1700 | 2350 | 2400 | 2550 | 2880 | 3100 | 3300 |
| Width | 600 | 1000 | 750 | 1100 | 1430 | 2350 | 2450 | 2690 | 3150 |
| Height | 950 | 1310 | 1400 | 1750 | 2185 | 2050 | 2275 | 2510 | 3035 |
| H-1 | 1060 | 1345 | 1600 | 1900 | 2280 | 2585 | 2960 | 2350 | 3765 |