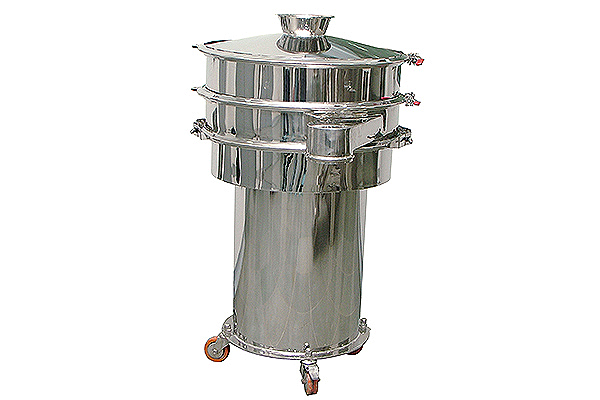 Vibro Sifter
Vibro sifters are circular gyratory screens used to separate mass composition of solids, liquid form solid and for gradation of materials as per particle sizes.
Vibration is generated in three different planes along the vertical axis by means of a specially designed vibratory motor having off centered weights at the top and bottom end of the motor shaft. The angle of lead of the lower weight to the upper weight provides variable screening pattern & output.
SPECIAL FEATURES
Available in standard and GMP models with contact parts in stainless steel 304 or 316 quality.
Portable unit with higher output.
Double and triple deck unit with different screens can be provided easy to dismantle for cleaning screens.
Noiseless, maintenance free unit.
Model Available - 20", 30", 48", 60"
TECHNICAL DATA
Models
12" Lab Model
20"
30"
Screen
Stainless steel 304/316 quality & of different mesh size as per requirement
Screen Dia
340 mm
500 mm
760 mm
Charging Height
850 MM
730 MM
730 MM
Discharging Height
480 mm
520 mm
520 mm
Electrical motor
0.18 HP
0.5 He 415 V, 3 Phase, 50 Hz
0.5 HP, 415 V. 3 phase, 50 Hz
Overall dimensions in mm
380 x 380 x 850
600 (w) X 600 (d) X 800 (h)
770 (w) X 770 (d) x 800
Net Weight
55 kgs
125 kgs
175 kgs
Capacity / hour
5 to 50 kgs
20 to 200 kgs
30 to 300 kgs
Note :Output of machine depends on bulk density and moisture content in the product.