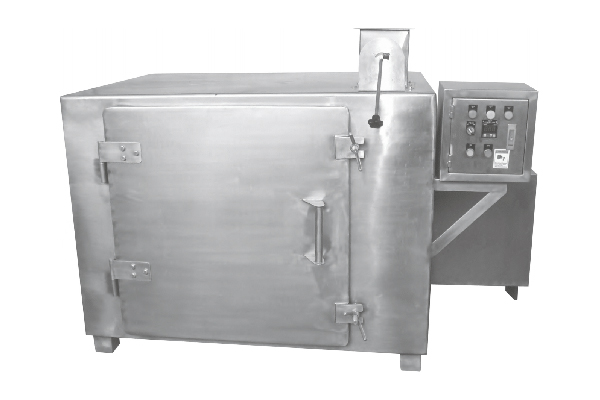 Tray Dryer
Tray Dryer is used for the best drying results in conventional process. It is a double walled cabinet with one two doors. The gap between two walls is filled with high-density fiber glass wool insulation material to avoid heat transfer. Doors are provided with gaskets. Stainless steel trays are placed on the movable trolleys.
Dynamically balanced axial flow type blower fans are provided for uniform air circulation in the drying chamber during process. Machine is provided with control panel board with process timer. Digital temperature controller cum indicator etc.
Sailent Features
All stainless steel 304/ 316/ 316L construction for pharmaceutical applications or external mild steel with SS internal contact parts. Electric / Steam/ Thermic fluid heating. Control panel board with process timer. (Circular chart recorder can be provided on demand at extra cost). Sturdy trolleys with castor wheels. Air filter at inlet. (Hepa filter can be provided on demand at extra cost). Easy accessibility of impeller for cleaning. The exhaust duct, blower & air inlet filters can be custom built to keep out of the production area with suitable ducting.
Capacity
6, 12, 24, 48, 96, 192trays. Standard & GMP models available with SS 304/SS31 6/MS internals & externals. Stainless steel tray in S.S. 304/ S.S. 316 quality.
TECHNICAL DATA
Capacity
12
24
48
96
192
Tray Size
16" (Length) x 32" (Width) x 1.25" (Height) in SS 304/316
Motor HP
0.5
1
1
1 HP x 2 Nos.
1 HP x 4 Nos.
No. of Trolley
Nil
Nil / 1
1
2
4
Heating Load KW - 100 C
3
6
9
8
36
Heating Load KW - 200 C
6
9
15
24
42
Heating Load KW - 300 C
9
12
21
30
48
Inlet Blower
1 HP
2 HP
3 HP
5 HP
7.5 HP
Steam Consumption
25 Lbs/hr
45 Lbs/hr
60 Lbs/hr
80 Lbs/hr
120 Lbs/hr